Career Peers and Career Peer Advisors are members of a dedicated team of professionals in the Career Center. It is the mission of this team to guide, educate and promote career readiness and development to NDSU students. Career Peers contribute to the mission by modeling professionalism and serving as a resource to students, faculty, staff and employers.
Career Peers are exceptional NDSU students, whom: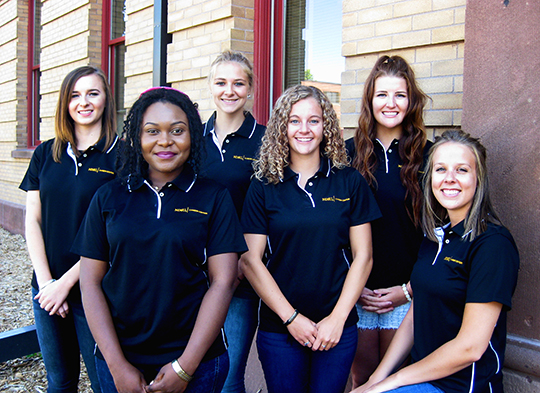 Are passionate about working with people
Are self-motivated; high achievers
Are looking for leadership opportunities
Are looking to gain real-world work experience
What's the work schedule? Available between 5-10 hrs/week and an occasional one or two nights per week (5-8 pm range) for surveying recent alumni


You'll be a member of the Career Center team whose mission is to equip students for success in the real world. Career Peers are assigned to different areas depending on interest and previous experiences. All Career Peers will be a customer service ambassador to students, alumni, faculty, staff and employers. In other words, you will be the "face" of our customer service area, which involves interacting with guests in-person, on the phone, and via email. Other areas include event planning, marketing, technology, and employer recruiting functions. Your work will also include distributing promo materials around campus, hosting employer presentations, giving brief and compelling classroom promotions prior to events, reaching out to student orgs and other groups to boost awareness on career preparation, and/or surveying recent alumni via phone to inquire about life after NDSU.
Career Peer Program Supervisor
Bridget Kessler, Guest Services & Employer Relations Specialist
bridget.kessler@ndsu.edu

You'll be a member of the Career Center team whose mission is to equip students for success in the real world. You'll be trained to advise students on vital things such as resumes, cover letters, job search, and interviewing. This means you'll be exploring tools and resources that you can discuss with others through 1:1 appointments, outreach to student orgs, posting content online, and being an ambassador of the Career Center. If you're looking for a meaningful job helping others pursue their dreams, this is it!
What's the work schedule? You'll need to be available between 5-10 hrs/week. In addition, we ask for occasional evening commitments for events and programming we put on.
Who should apply? Minimally, we're looking for great people who enjoy working with others from all backgrounds, self-motivated, positive, display good communication, and like to get things done. Our office maintains private information about students, so you'll be asked to sign a confidentiality agreement. Academically and judicially, you should be in good standing with NDSU and possess/maintain a 2.5 GPA per semester and cumulatively. You'll score bonus points if you have a high attention to detail, really good interpersonal skills, are a fast learner, can follow processes and procedures, experienced with MS Office, have worked in an office environment, and are savvy with social media (FB, Twitter, LinkedIn, blogs, etc.).
Career Peer Advisor Supervisor 
Olivia Scott, Career Educator
olivia.scott@ndsu.edu